ible Airvida – Your Best Travel Protection
As Singapore rapidly eases its COVID-19 restrictions, many of us are eager to travel and move about to catch up with our beloved friends and family members. Today, group size limits and safe distancing requirements have been removed. Masks remain optional in outdoor settings and all workers can immediately return to their workplace. Furthermore, Singapore has opened its borders to fully vaccinated visitors and non-fully vaccinated children aged 12 and below without any COVID-19 tests. Undoubtedly, there will be an increase of tourists in Singapore, as well as travellers going out of the country.
However, we should still be aware of the health risks involved as we advance in the fight against COVID-19. For example, many people remain unvaccinated due to allergies or medical conditions. Not to mention, our front liners in hospitals and clinics face an increased risk of exposure to the virus. The vaccines are also not recommended for our little ones, making them more likely to be infected by the virus. Nevertheless, there is still a way to keep us safe today!
Introducing ible Airvida – a wearable device that removes 99.9% of virus in the air (Source: Japan Kitasato Research Center for Environmental Science) and increases protection against Coronavirus. Our award-winning product will be the best protection tool for your travel.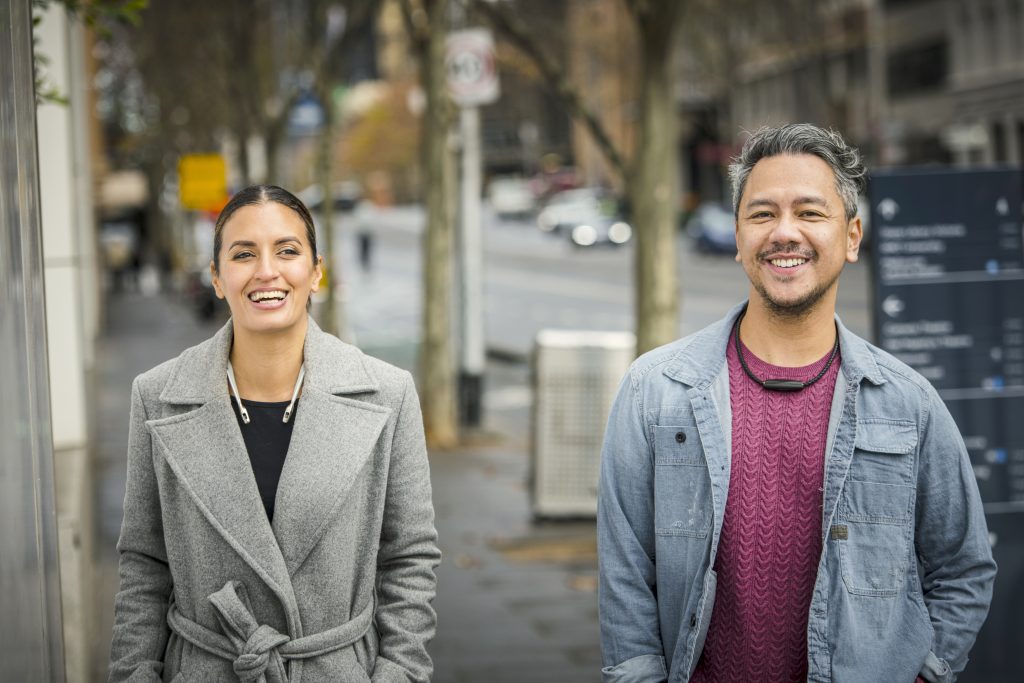 A Convenient Air Purifier
Made in Taiwan, Airvida is designed to be conducive and efficient for travel. It is small, lightweight and comes with a long battery life, so you do not have to worry about charging it for days! If you do need to charge it, the device can be placed at its charging dock and is USB rechargeable at your convenience. Furthermore, Airvida does not contain any wireless functions, making it suitable for flights. Equipped with solid functionality to purify the air in your surroundings, you are protected from airborne bacteria and viruses wherever you go. Simply wear the trendy and portable Airvida around your neck like a necklace!
How Does It Work?
Airvida family adopts ible's unique Breathing Pathway Eco Ion Technology. This technology reduces the air pollutants you breathe in by producing over 2 million negative ions around your facial area. Attaching to the airborne particles, these negative ions will turn them into bigger and heavier chunks, making them fall to the ground, thus deactivating these viruses immediately. The number of ions produced by our wearable purifiers is around 100 times more than what a forest produces! Airvida protects you just like an invisible mask.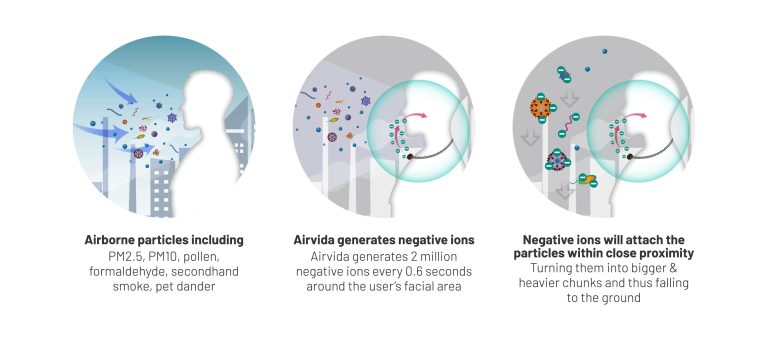 For Your Daily Use
Airvida series is the perfect solution to protect yourself from viruses & airborne allergens in your daily life. It can be used during outdoor activities such as cycling and running, to indoor settings like in the gym, office or school. Ergonomically designed for long hours of wearing and maximum comfort, you can wear it at any place and time.
As travel restrictions have eased, Airvida provides the ultimate protection in crowded airports and flights whether you are wearing a mask or not, as it has a 99.7% Coronavirus removal rate (Source: National Biotechnology Research Park, Taiwan). Most importantly, it is helpful for people suffering from allergies like hay fever as it reduces the suspension of airborne allergens near the nose and mouth. With our advanced technology and functionality, you can safeguard yourself wherever you go.
Multi-Award Winning Series
ible Airvida's efficacy is certified by international laboratories and recognized by international awards for its air purifying ability. With its unique design and cutting-edge creativity, Airvida obtained the "Winner of Sectors" prize at StartupSG's SLINGSHOT 2019, and the Innovation Award at CES 2020. It also won first place at the SNQ (Symbol of National Quality, Taiwan) Epidemic Prevention Category awards for three consecutive years. Rest assured, our device will ensure that you and your loved ones have a better air quality for life and are well-protected.
Choosing The Right Airvida For You
Airvida comes in three different models to cater to every individual's needs.
M1 – The smallest air purifier in the world, this device weighs only 20g. It can easily be worn with a FIA (Japan) certified titanium necklace or a collar clip daily. Furthermore, when placed on its charging dock, the Airvida M1 doubles up as a desktop air purifier.
L1 – A trendy and wearable air purifier with a patented double-vent design, this device only weighs 70g. This model has an elegant design that is fitting and lightweight, making it a must-have accessory for comfort and efficiency. Simply place it around your neck with the flexible bracket or it can also be placed on your desk.
C1 – This model is the world's only portable air purifier designed specifically for children aged 3 to 10 years. Styled as a necklace with an animal face pendant, this 22g device is a cute accessory which efficiently purifies the air around your little ones, wherever they go.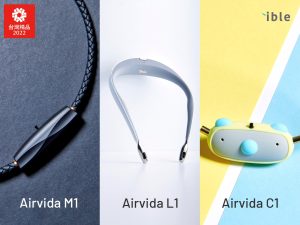 Many of us would definitely worry about the health risks involved as Singapore's COVID-19 restrictions have eased. As we venture out today, ible Airvida series is the perfect protection tool for you so that you can enjoy your time with your loved ones without any worries. Get yours today!